09 September, 2015
AUTOPA launches the UK's first ever Illuminated Sheffield Cycle Stand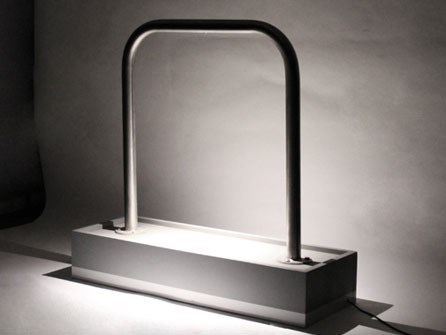 AUTOPA Limited is proud to announce the launch of its new Illuminated Sheffield Cycle Stand. Bringing cycle stands into the 21st Century, this cycle stand is the first of its kind in the UK marketplace. Powered by an energy efficient 1.2w LED, this stand aims to bring an end to a common cycling problem; how to lock and unlock your bicycle lock in the dark.
Cycling is big business in the UK, and it is important that our cycle parking areas reflect the investment that is being poured into other areas of cycling infrastructure. Overhead illumination is excellent for lighting a wide area, however, when a cyclist is bent over the stand to unlock their bike, they create a shadow where they need the light most. This product launch rectifies this.
The Illuminated Cycle Stand from AUTOPA Limited represents the first major redevelopment of the Sheffield Cycle Stand since its introduction in the 1990s. The "Sheffield style" cycle stand is one of the country's most recognisable cycle stands, and a common feature in every public space across the country. A constant favourite amongst cyclists and specifiers alike, the Sheffield Cycle Stand allows the bicycle wheel and frame to be locked to the stand for added security. Fully scalable, the number of stands that can be ​installed is only limited by the size of your site.
Fully manufactured in the UK, the Illuminated Sheffield Cycle Stand is IP64 rated and the LED has an estimated lifespan of 100,000 hours, is weather and vandal proof, making it ideal for external installations. A white light bulb is supplied as standard, however, other colours are available on request.